seed bead
|
precious metals
|
gemstone
There is nothing more elegant than a rope of glimmering silver, sparkling gold, or the combination. These styles are luxurious and look great dressed up or with jeans. Most styles are available as necklaces as well as bracelets. Click here to see how its done.
: Begin with a simple solid silver or gold bracelet or necklace.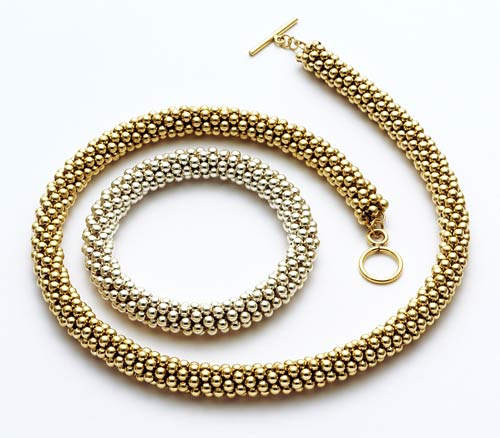 : A Swirl of black Czech crystal adds some drama. Available in both Silver and Gold.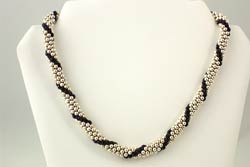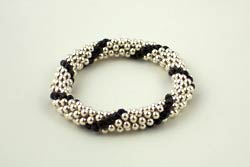 : A smooth ribbon of beads with a contrasting border, this style lays flat and is the only style of crochet bracelet that uses a clasp. Sterling or gold filled beads are stunning when bordered by Swarovski crystal, shown here in black. For a bolder look, try the larger beads in sterling bordered by gold.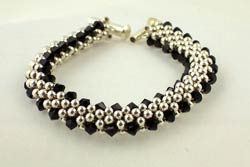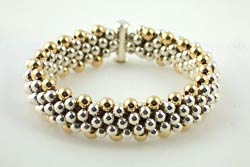 : The Dot pattern has infinite color possibilities. It is a little thicker than the other styles, and has some texture from the larger 'dot' beads. For a monotone look, there is the sterling with stardust dots or gold with golddust dots. For a contrasting look, try either silver or gold with dots of virtually any color of Swarovski Crystal.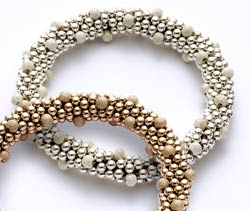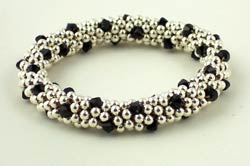 : This Textured pattern is one of my most popular. The combination of gold filled and sterling beads seems to match any outfit, casual or dressy.